Pacific Parrot Placement (formerly Puget Sound Parrot Rescue & Adoption) is a registered federal 501(c)(3) and Washington State non-profit organization, and group of parrot-lovers dedicated to finding loving new homes for parrots whose current owners can no longer keep them.

Please click on the appropriate Registration Form link below and register with us if you are interested in adopting a parrot... or if you need assistance in finding a good new home for your parrot We are here to help you.

(Please note: currently this service is available for persons in Western Washington and Western Oregon only. We hope to expand our area of operation soon.)




ADOPTION REGISTRATION FORM
(Click here if you wish to adopt a parrot)


PLACEMENT REGISTRATION FORM
(Click here if you wish to place your parrot for adoption)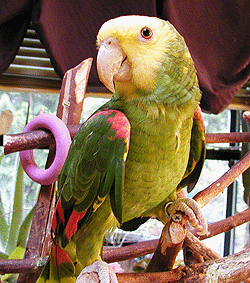 Toby-Sue, double-yellow headed Amazon.
Can you help us continue to find good homes for parrots like Toby-Sue?
Any donation amount helps us pay for food, board, cages, toys and medical bills for our flock!
Your donation is tax-deductible!

Thanks from the birds at Pacific Parrot Placement!
---


Please read the following articles regarding parrot-keeping:
So You Want A Parrot
An Only Bird Is A Lonely Bird
A Parrot's Work Is Never Done
Which Bird For Me?


Pacific Parrot Placement
(formerly Puget Sound Parrot Rescue)
Registered Federal 501(3)(c)Organization
EIN: 27-3925687
Registered Washington State Non-Profit Organization
UBI: 602925426
P.O. Box 496
Gig Harbor, Washington 98335